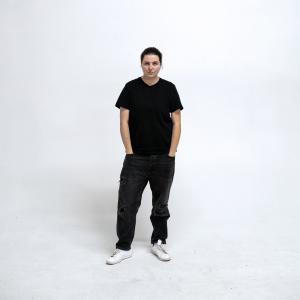 Moira Ness
Artist member since 2018
Toronto , Ontario
Moira Ness is an interdisciplinary visual artist specializing in contemporary photo-based landscapes and algorithm generated text. Her current work focuses on the graphic representation of raw telecommunication data, merging visualized systemic information with highlighted personal connections. Moira lives in Toronto and works out of Northern Contemporary Studios in Roncesvalles. Moira has exhibited at The Los Angeles Center For Digital Art, Akasha Art Projects, Lakeshore Arts, Northern Contemporary, Gallery 44, Roman Susan Gallery, Red Head Gallery, Latcham Gallery, The Art Gallery of Mississauga, Narwhal Contemporary, OCADU, and The CICA Museum. She was a finalist for both RMG Exposed 2016 and 2017, a finalist and overall winner for the 2017 UNTAPPED Emerging Artist Competition for The Artist Project and a finalist for SNAP! 2017 Photo Auction. Moira participated in the 2017 Toronto Outdoor Art Exhibition where she won the Emerging Artist Award and was shortlisted for the Founding Chairman's Award. Moira participated in the 2018 Toronto Outdoor Art Fair where she won the Catherine Bratty Award for Best of Art Fair, judged by Bruce Eves. Moira showed her work at NordArt in Büdelsdorf, Germany in the summer of 2017. In 2017 she was the artist in residence at The 108 Residency in Upstate New York and was the artist in residence at Main Street Arts in May 2018. Moira recently joined Arts Etobicoke's board of directors.
---
Favourite artist(s) right now
Stella Cade, Gregory Crewdson, Cam Champ, Sage Szkabarnicki-Stuart, Keight MacLean, tahsin — the good, Ryan Pechnick
Favourite musical artist / band right now
Majid Jordan or Silla + Rise
I'm really good at making (a) ...
Okonomiyaki, Ramen, Bibimbap. FOOD.
Your favourite spot in Toronto right now
Rose and Sons! The matzah ball soup is UNREAL.
In a previous life I was (a) ...
Manatee
During my breaks, I tend to ...
watch old seasons of Top Chef.
Accolades
2018
Toronto Outdoor Art Fair
Best of Art Fair
Residencies
2017
Germantown, NY
108 Residency
2018
Clifton Springs, NY
Main Street Arts Residency
SHARE THIS ARTIST